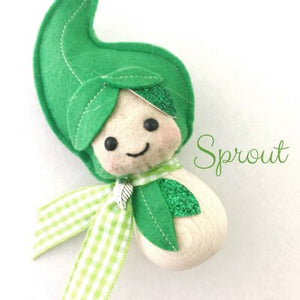 Sprout TillyTino™
Sale price Price £14.00 Regular price Unit price / per
This is Sprout.
He was the first ever TillyTino™.
He loves climbing trees and talking to plants to help them grow.
He is quite tall and stands at approx 11.5cm
Just like all other TillyTinos™ he has a trademark silver tone leaf charm around his neck and sticker on his base to prove he's genuine.
His body is made of turned wood and his face is a mix of acrylic and wool blend felts.
Every single TillyTino™ Is handmade to order which makes each one special and ever so slightly different from the last. The photos are there as a guide but please be aware that the one you adopt may have teeny variations.
He is a collectable or a "shelfie" and is a thing of beauty that's a joy to behold way up high away from curious little people. Because grown ups like pretty things too
•••please read••••
Sprout is sweet but he is absolutely NOT A TOY.
He or any of the parts included cannot be touched by children unless under adult supervision as he has tiny little parts which may present a choking hazards and isnt intended to be handled by little fingers as it just wouldn't be safe and we don't want anyone getting hurt.