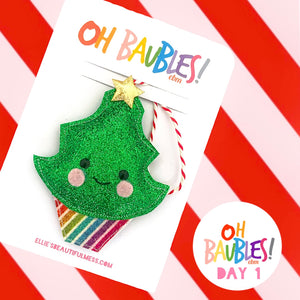 Day 1 • Oh Christmas Tree!
Sale price Price £5.50 Regular price Unit price / per
Oh Christmas tree, oh Christmas treeeee! 
Day One
This little fella is the first of my Oh Baubles collection. A sparkly, squishy little tree with a hand stitched smiley face, a glittery rainbow pot and a star on top and a stripy string to hang him from. 
He is glittery on the back too so he will sparkle as he twirls about in the fairy lights. 
He measures approx 10cm tall but as each bauble is made to order and this can vary slightly, just so you know.